Back to search
Hans P. Innemée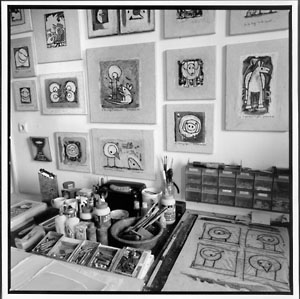 Born as Hans Peeters in 1951 in Heerlen, Limburg (NL), Innemée studied graphic technique at the art academy in Tilburg. At that time he dreamed of becoming a professional musician. He played in a band at night, and taught drawing at various farming schools during the day. In his free hours he began experimenting with monotypes. This technique involves laying a thin piece of paper on a plate of glass covered with ink. A drawing is made with pencil on the back of the paper. These drawings are then glued onto a panel which already has more layers of paper pasted onto it. Then the artist finishes the panels off with oil crayon.
Innemée's subjects are often taken from the farmyard, and he is especially handy with chickens, which express all sorts of human characteristics. The subject of chickens was partly inspired by a sketch by the English comedian Tommy Cooper.
Dreams of a musical career and the need to teach to keep bread on the table are past, and Innemée enjoys the freedom to spend all his time in the studio, thinking up new animal treatments of the human situation.