Back to search
Geke Hoogstins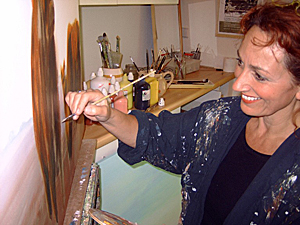 Geke Hoogstins (Kollumerland,1956) was born in the province of Friesland in the Netherlands. In 1979 she started the training at the academy of arts "Minerva" at Groningen. After some weeks however, she decided to choose for her other passion: the ballet, theater and teaching. She finished her study cum laude on the Teacher Training College at Groningen. After years of teaching she decided, in 1996, to devote herself completely to painting. Nowadays, she has an atelier where she exposes her paintings and makes a lot of work in commission.
The beautiful landscape and the cows in the surroundings of the place where she lives and works, is the most important source of inspiration.
In her paintings she tries to "catch" the atmosphere of the landscape in all it"™s appearances, so that the spectator can share the perception of the painter. She is a perfectionist and tries to develop her technique in every new painting that she makes. Her cows are realistic and she works out the expression in the eyes in a way that they affect you, the noses look wet and the fur caressabel.
She all so embodied her liking of the landscape in the book "Kunstlandschap" . Two and a half year she worked on this project. She visited and painted 50 locations with an historical or archaeological background, in aquarel. The book was presented on the 1st of june 2007.
In May 2008 Geke participated in the exposition called "Dutch Landscapes" in Kemerovo (Russia) and she was invited to be at the opening and she gave workshops and readings about her work.